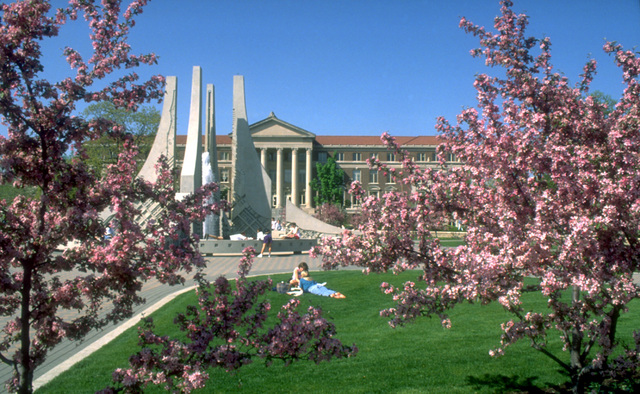 As I write this post, a countdown on my computer reminds me that I have only 80 more days until I graduate from Purdue University. In 80 days, I will no longer be a Purdue student, but rather a Purdue Alum. It's scary to think and it's now starting to hit me.
When you are in your last semester as a senior, things begin to slow down, showing you that the end is near. This past January, I stepped down as the Parish Council President at St. Tom's; this weekend will be my last ever Boiler Awakening retreat, and even my course load has been reduced to classes that have pointed me towards my future in graduate school. It's just scary to think that 1275 days ago, I took my first class at Purdue, and now I am only 80 days away from walking across the stage at Elliott Hall of Music.
I never once doubted the people who told me 4 years ago that college would move by quickly, but I didn't think it would move by this quickly. Though I am not ready at the moment to say goodbye to Purdue, God is showing me my path for the future. As most of you know, I have been accepted into Michigan's Ph.D. program for Atmospheric Science. Though I have had a great relation with Michigan since my REU back in 2011, I'm still finding it a bit difficult to call myself a Wolverine over a Boilermaker, and part of me wants to stay.
However, Purdue is showing me that my time in West Lafayette is done.
Two weekends ago, our department (Earth, Atmospheric and Planetary Sciences (EAPS)) held its annual Graduate Expo for most of students who applied to the EAPS Graduate Program. Though I was certain I was going to Michigan for graduate school, I still applied to Purdue because I have worked with the department through research and extracurricular during my undergraduate career and I still felt that connection to Purdue. Everyone who applied to Purdue's program who was in my class received an invitation to attend.
Except for me.
It had seemed that since the professors in EAPS knew my connection with Michigan, they just assumed I was going there. They had seemed to overlook the fact that I took the time to apply to Purdue and pay $60 out of my own pocket to send in the application, but they just put my application to the side. I was extremely bitter. I felt that my last 4 years at Purdue meant nothing to my department. I talked about this with my mother, who I have been close to for almost my whole life, and she said that this was God's way of showing me that my time at Purdue is coming to an end and I must go. I was too bitter at the time to acknowledge that, but like most mothers, she was right.
Personally, I think the professors at Purdue did not just throw me to the side. Perhaps they believed I had better potential at Michigan or elsewhere, and that students from other universities deserve the chance to call themselves Boilermakers. Whatever their reasoning was, this was Purdue saying "we had a great four years together, and I have given you great potential, but it is time for you to use your potential elsewhere as a Boilermaker."
Before the end of the month, and probably before this Friday, I will officially accept my offer from the University of Michigan. In the words of LeBron James, I'll be taking my talents to Ann Arbor.
I hold nothing against Purdue for most likely not accepting me into the graduate program (I haven't received any notice from Purdue that I have been denied, but it seems likely). My time at Purdue has come and gone, and we all must face the day when we leave Purdue for the last time as a student and enter into a new world beyond the valley of the Wabash.
It isn't going to be easy. After all, I am quite comfortable here at Purdue. I have an amazing girlfriend who I see everyday, a great group friends through St. Tom's, PUMA, and other places, and in general a community that I fell in love with after my first visit to Purdue in November 2007. But just as the cliche states, all good things must come to an end.
As I look back on my 4 years at Purdue, there are some things I wish I could have done differently. However, if I had to graduate right now, I would look back and have no regrets.
In a couple years, very few people at Purdue will know who I am, and in just 5-7 years, no one will even know me, and the same is probably true for most of us. Despite that, I know I have made an impact here at Purdue that will impact someone in a few years that I will never meet, and for me that is enough to make me say I have no regrets being a Purdue student.
The same is true for our time on Earth. We do not have a long time living on this planet. Unless we are one of the very few that become a very historical person, we will be forgotten about just a few decades after our death. It can be a sad thing to think sometimes, but it really isn't. Just like our years in college, we make decisions during our lives that will affect at least one person down the line that we will never meet. Some say that you should live life like it is your last day on Earth, but if that were true we would do a lot of stupid things, like saying YOLO.
In reality, we do need to look at life as if we were going to die tomorrow, but mainly look back on our own lives and say "I have no regrets." Then, you will know you have lived a great life, and I can personally tell you that I have no regrets.
I do not know how my quick discussion on leaving Purdue has led to me talking about our lives and death, but there is a small connection there. We have to be able to live our lives in a way where we will have no regrets. Sure, I may put the pro in procrastination, but I still try not to waste a day, even if I do spend most of it on the internet. We can only do so much in so little time, the question is how we spend our time and how do we prioritize our life events. All I can really do now is to just say again that I have no regrets from my time at Purdue.
Purdue, we had a great run over the last 4 years, and you have a special place in my heart that no one else can replace. However, we both know that we must part our separate ways, but know that the last 4 years have been life changing and will impact the way I live my life in the future. We will both change after we part ways in 80 days, but we both must move on and reach even great potential that we didn't know was possible.
Let's make these last 80 days awesome.